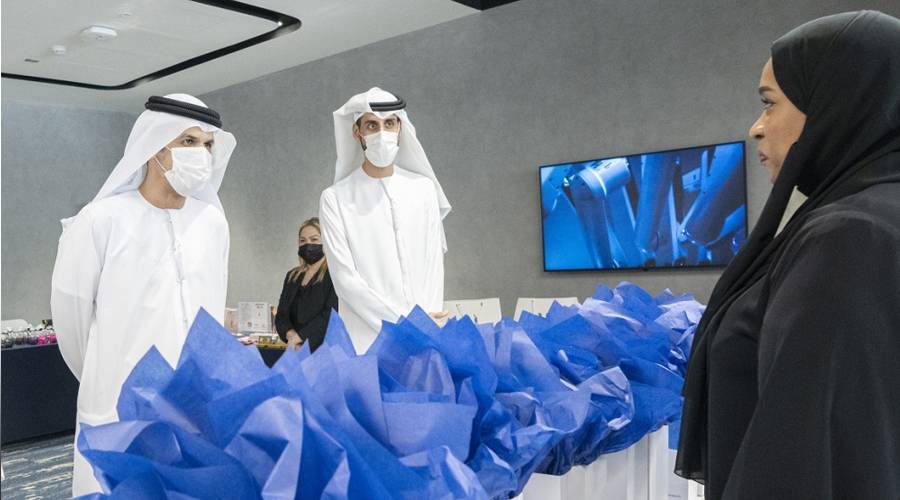 Dubai:
"Gulf"
The Department of Communication and Marketing at Emirates Health Services Corporation organized an exhibition under the slogan "Our holiday with our projects" at the foundation's headquarters, where it reviewed 16 projects from the foundation's employees to strengthen the axis of happiness and positivity in the work environment, support projects for career cadres and stimulate a culture of innovation and creativity. .
The exhibition was launched in the presence of Dr. Youssef Al Serkal, General Manager of the Corporation, Adnan Al Riyami, Director of the Human Resources Department, Rashid Al Ali, Director of the Communications and Marketing Department, Dr. Sarah Al Shaya, Acting Director of the Data and Statistics Department, Waheed Al Mulla, Director of the Facilities and Administrative Services Department, and Dr. Mubarak Hassan, director of the contract and procurement department, Ahmed Al Suwaidi, director of the customer satisfaction department, and a number of department heads and employees.
Rashid Al Ali congratulated the employees on the occasion of the Blessed Eid, and praised their efforts and their participation in various projects, and encouraged them to continue to adhere to the highest levels of professionalism and efficiency in the implementation of the company's plans and strategies to play a active role in consolidating its position and improving the working environment in it.
He added that the work environment is taking qualitative and advanced steps in career creativity, noting that the company continues to implement its qualitative training programs aimed at empowering employees and upgrading their skills and expertise, and notes the importance of directing their efforts towards promoting the language of innovation and creativity.
The organization of the exhibition, on the occasion of the blessed Eid, is in line with the company's plans to upgrade the national cadres' skills, strengthen a positive competitive environment and consolidate the company's position as an innovative health destination by providing the opportunity to design quality projects.
The event witnessed the presentation of a group of different projects which included a fantastic project for Dukhoon and perfumes, Rawaiha Al Jannah coffee, Umm Rashid project for perfume and old oil trade, Amoh blends, Al Jawaher for incense and perfumes and Ghawazi perfumes, in addition to a variety of projects.
The exhibition was widely attended by the foundation's employees and saw a review of a renewed and diverse range of innovative projects.