Dubai, United Arab Emirates –7 March 2022: There is no place like home. Your home is your comfort zone, especially after a long strenuous day. It's your sanctuary to unwind. It's where you wake up feeling fresh every morning to take on the world. Your home is where the memories are born. From those unending conversations with your friends to those romantic soirees with your better half, your home is the centre of your happiness. It's your refuge from all the worries. A place where you can feel completely safe, be happy, and most importantly be yourself. This season, fall in love with your home all over again with these inspiring tips from PAN Emirates Home Furnishings.
Slumber in luxury­­­
Get inspired by this luxurious bedroom and create a retreat that you'll instantly fall in love with. The layers of plush textile keep you warm and cozy throughout the night while an outstanding bed in neutral undertones and the complementing sidekicks with a splash of gold infuse the right amount of function and flair to create a calming and well-curated sanctuary for your sleep.
Glam up the convos
Create a glistening living room that not only steals their heart but also make them envious, just like this stunning conversational corner. With an awesome curvy sofa, a boucle armchair, a striking coffee table at the center, dazzling pendant lights, and a lot of gleaming sidekicks to go with, this bespoke living is oozing with glitz and glam.
Make new memories
Leave no stone unturned to turn your eating space into something magical and host a feast that your loved ones will remember for a lifetime. The noteworthy dining table in this space sets a glamorous foundation for your meals, while the white & gold tabletop accessories, glazed stemware and the modern sputnik-style light elevate the aesthetics.
Chillax in style
Who would want to go out when happy hour can be right at home? Now set up a suave go-to-spot to chillax with everything cool, and shake things up in your pajamas. Explore Pan Emirates' collection of automobile-inspired car sofas and truck-shaped bar counters to add a quirky edge to your space. Add-ons like the scooter clock on the wall and the cowhide leather chair with layers of fur accentuate the quaintness of this vintage-inspired hideaway.
Soak up & revive
Imagine coming back home to a relaxing bath every day. That's right! Now, the bathroom of your dreams can be easily achieved with Pan Emirates premium collection of towels, robes, bath mats and accessories. Made from super-absorbent and top-quality materials, these bath essentials bring the feeling of a luxurious spa to your home by turning your bathroom into a haven of tranquility.
The quite corner
When life gives you a corner, turn it into something charming and claim it completely yours. Cheerful, cozy and welcoming, this peaceful me-time spot features a leathery chair, super-comfy pom-pom cushions, a plush throw, and a soft rug, to keep you at ease as you unwind. A metallic console and mirror duo and a dash of greenery complete the scene for your much needed self-love moments.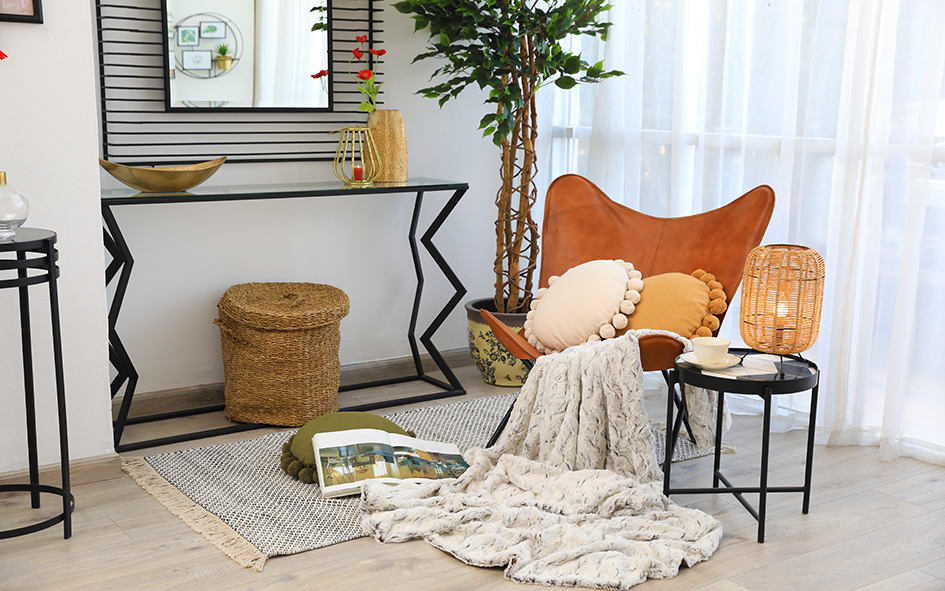 Cuddly companions
Whether your idea of unwinding is snuggling up on your favorite couch or slumbering in your retreat, a pile of furry cushions will make the perfect companions, making your downtime utterly relaxing. Stack them up in different sizes, shapes and patterns to bring instant comfort and style to your space.
Scenti-mental shine
What's a home without some shine and scent? From the warm glow of our alluring candles to the sweet smell of our refreshing home fragrances, Pan Emirates has got everything to set a calm and relaxing ambience that'll instantly transport you to the world of serenity.
A hint of green
Refreshing and pleasing to your eyes, a hint of green is all it takes to add a new lease of life into any space. Uplift the vibe of your interior with Pan Emirates' wide selection of trees and pot plants, and feel the freshness of the outdoors within your home.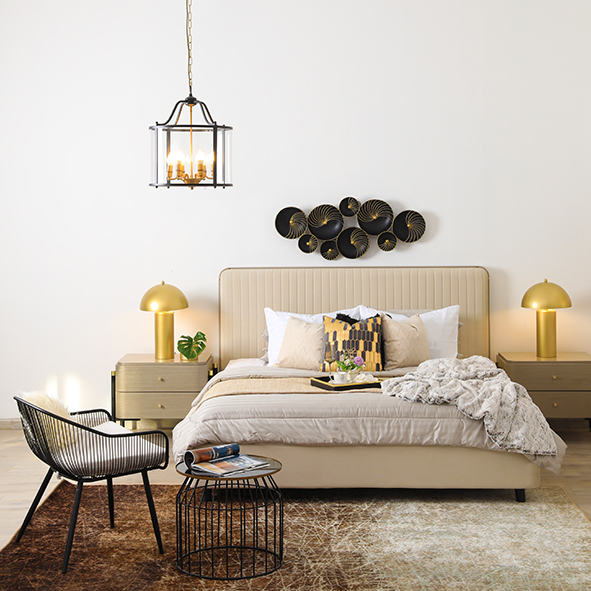 Customers can shop for the full range collection at PAN Emirates Home Furnishings stores or online at http://www.panemirates.com