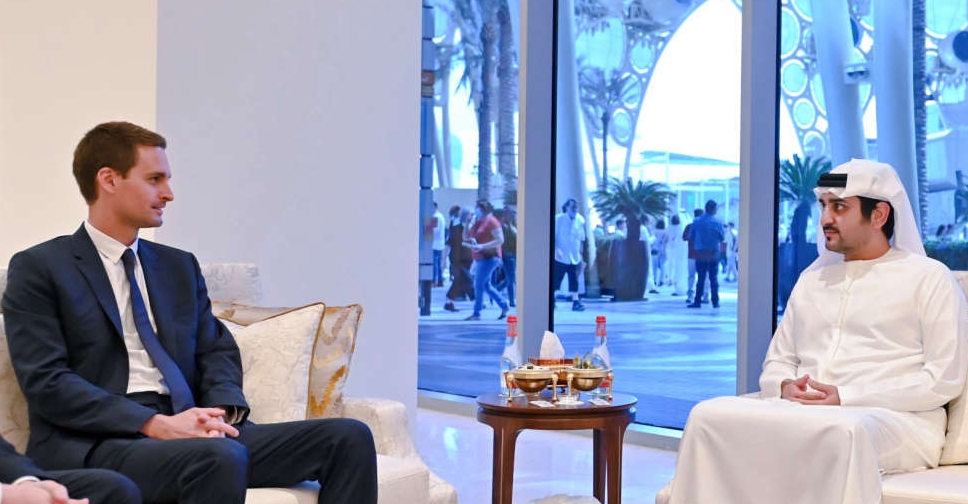 WAM
His Highness Sheikh Maktoum bin Mohammed bin Rashid Al Maktoum, Deputy Ruler of Dubai, Deputy Prime Minister and Minister of Finance, held talks with Evan Spiegel, Co-Founder and CEO of Snap Inc.
During the discussions, His Highness Sheikh Maktoum bin Mohammed said Dubai is looking to further strengthen its cooperation with leading international technology companies to advance its vision to be a key player in shaping the worldwide digital economy.
Dubai also seeks to leverage the power of digital technology to transform all aspects of the economy and government, for the benefit of its people, businesses and a wide range of other stakeholders, Sheikh Maktoum added.
Snap Inc., the US-based social media company that owns the popular messaging app Snapchat, launched its regional headquarters in Dubai Internet City in early 2017.
Since then, the company has used Dubai as a crucial platform to produce more locally relevant content, introduce new creator platforms and products, and launch creative campaigns in partnership with local and pan-regional brands.
Spiegel thanked Sheikh Maktoum for the support extended by Dubai and the UAE that has enabled the company to expand its operations and its users both in the country and across the region.
As of the fourth quarter of 2021, Snapchat had 319 million daily active users worldwide with the MENA region a key high-growth market for the company.
Over the last few years, the company has grown its presence across MENA from its Dubai Internet City office, which serves as a business hub for its diverse regional clients and agency partners.
Snapchat is currently partnering with Expo 2020 Dubai to provide visitors with an interactive augmented reality experience that celebrates Dubai's unique role in connecting the world, and brings to life the mega-global event's theme of 'Connecting Minds, Creating the Future' through a cross-cultural collaboration.