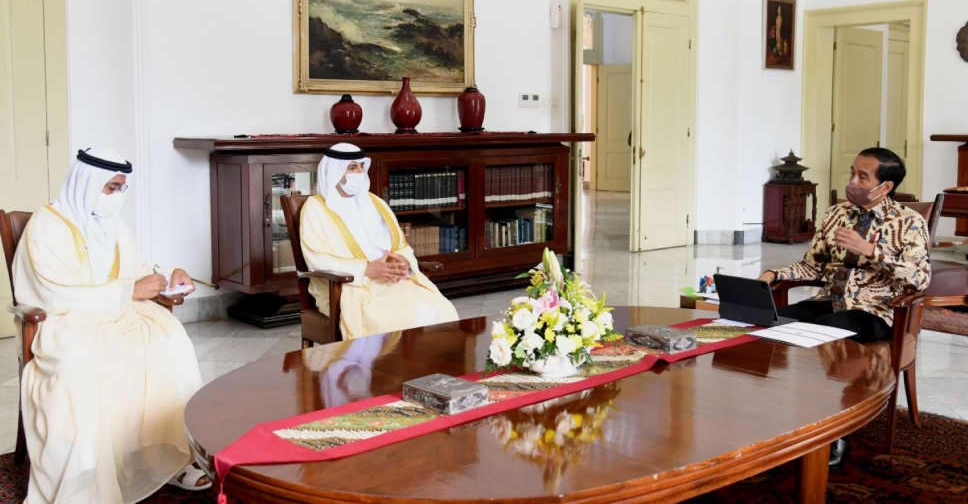 WAM
His Highness Sheikh Mohamed bin Zayed Al Nahyan, Crown Prince of Abu Dhabi and Deputy Supreme Commander of the UAE Armed Forces, has invited Indonesian President, Joko Widodo, to visit the country to witness the signing of the UAE-Indonesia Comprehensive Economic Partnership Agreement (CEPA).
The written invitation was delivered by Suhail bin Mohammed Al Mazrouei, Minister of Energy and Infrastructure, on his official visit to the country, leading a delegation comprising representatives from G42, an Abu Dhabi-based AI and cloud computing company, Abu Dhabi Ports, Abu Dhabi Growth Fund, Abu Dhabi Future Energy Company (Masdar) and a number of officials from the Ministry of Energy and Infrastructure and other relevant departments.
During a meeting at the Presidential Palace, the Minister emphasised relations between the two nations and their strategic partnership as well as the keenness of the UAE leadership to develop and strengthen cooperation across all fronts.
Suhail Al Mazrouei thanked Indonesia for inviting the United Arab Emirates to attend the G20 Summit, which will be held there later this year.
The Indonesian President commended relations between the two countries and the developmental drive championed by the UAE over the past fifty years, hailing the rapid and steady growth in their bilateral relations in various fields and sectors. He expressed his hope the visit would contribute to further strengthening cooperation in various fields.
Emirati-Indonesian relations have significantly grown over the past years, especially following the visit by His Highness Sheikh Mohamed bin Zayed to the Asian nation in July 2019, which resulted in the signing of memoranda of understanding worth $32 billion.
A number of Emirati companies are currently working on promising projects, including Indonesia's first floating solar power plant by Masdar, and a project between the Abu Dhabi National Oil Company (ADNOC) and Indonesia's Pertamina to develop petrochemicals and gas.
The Minister of Energy was accompanied by Abdullah Salem Al Dhaheri, UAE Ambassador to Indonesia and the Association of Southeast Asian Nations (ASEAN), and a number of officials, during the meeting.
Mohamed bin Zayed invites President of #Indonesia to visit #UAE, witness signing of Comprehensive Economic Partnership Agreement.#WamNews https://t.co/88DpaCwFj9 pic.twitter.com/AMQ26D7HIw

— WAM English (@WAMNEWS_ENG) March 7, 2022