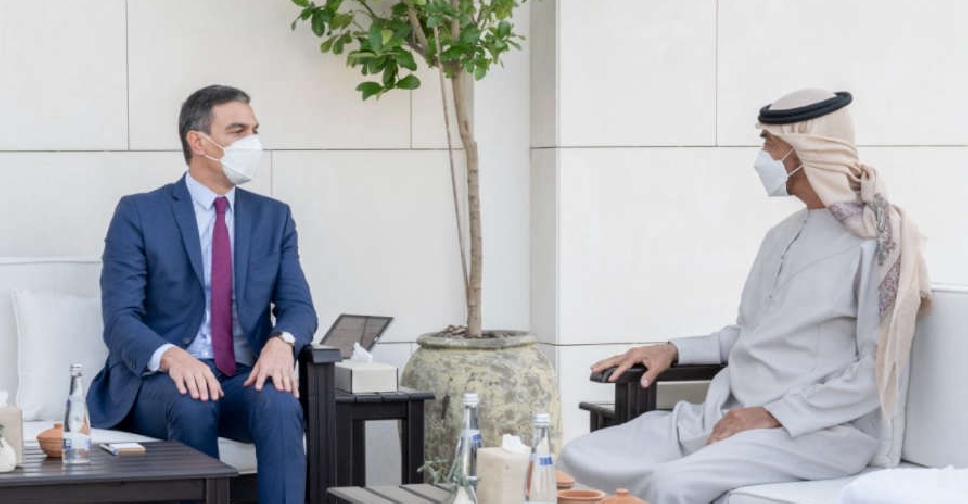 WAM
His Highness Sheikh Mohamed bin Zayed Al Nahyan, Crown Prince of Abu Dhabi and Deputy Supreme Commander of the UAE Armed Forces, met with Prime Minister of Spain Pedro Sánchez at Qasr Al Shati in Abu Dhabi.
The leaders discussed the prospects of fostering relations and cooperation ties, especially in the economic and investment sectors.
They also reviewed a number of regional and international issues and developments of common concern and exchanged views on a number of topics of interest.
Sheikh Mohamed expressed his thanks and appreciation to the Spanish Prime Minister for his country's stance towards the recent terrorist attacks on civil facilities and sites in the UAE and its solidarity with the Emirates.
Both leaders shared the need for a renewed and robust relationship between the European Union and the UAE, welcoming plans to foster a renewed relationship between the EU and the GCC, as well as the commitment to advance regional cooperation with a view to developing key partnerships in strategic sectors.
The Spanish leader also visited Expo 2020 Dubai along with His Highness Sheikh Mohammed bin Rashid Al Maktoum, Vice President andPrime Minister of the UAE and Ruler of Dubai.
The leaders also discussed the prospects of enhancing cooperation in various fields, especially business and investment. The meeting also explored new avenues to share expertise in various sectors.

More from UAE