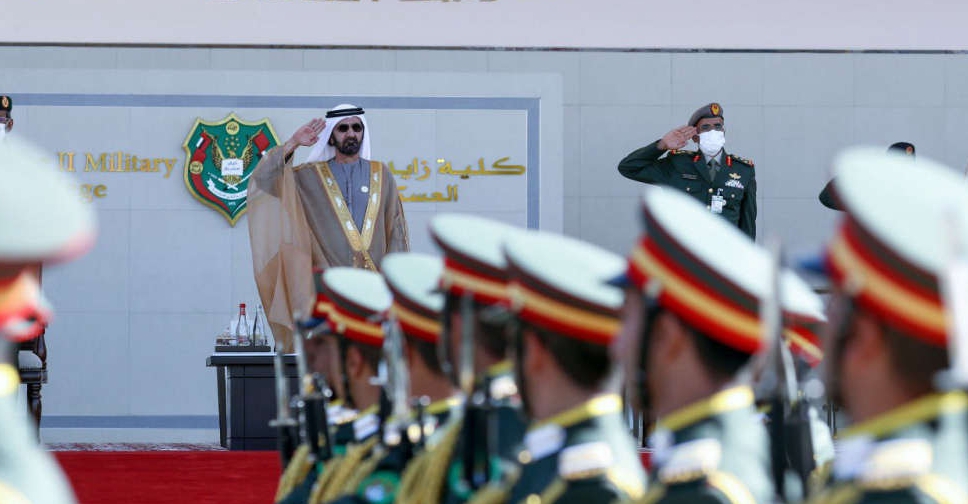 @DXBMediaOffice/ Twitter
His Highness Sheikh Mohammed bin Rashid Al Maktoum, Vice President and Prime Minister of the UAE and Ruler of Dubai, today attended the graduation ceremony of the 46th batch of cadet officers of Zayed II Military College in Al Ain.
The ceremony coincided with the 50th anniversary of the college's founding as well as the UAE's Golden Jubilee celebrations.
His Highness congratulated the graduates and wished them success in serving their nation.
He pointed out how over the last five decades, graduates from the Zayed II Military College have demonstrated high levels of loyalty and determination in defending their homeland and extended a helping hand to people in need.
Sheikh Mohammed added that the strong values of the graduates of the college reflect the love and loyalty for the nation that the late Sheikh Zayed bin Sultan Al Nahyan has instilled in the people of the UAE.
Following in Sheikh Zayed's footsteps, UAE President His Highness Sheikh Khalifa bin Zayed Al Nahyan and His Highness Sheikh Mohamed bin Zayed Al Nahyan, Crown Prince of Abu Dhabi and Deputy Supreme Commander of the UAE Armed Forces, continue to uphold these ideals, His Highness said.
During the ceremony, Sheikh Mohammed watched a parade of the college graduates and received a commemorative gift on the occasion of the 50th anniversary of the founding of the college.
. @HHShkMohd attends the graduation ceremony of 46th batch of cadet officers of Zayed II Military College. The ceremony coincided with the 50th anniversary of the college's founding as well as the UAE's Golden Jubilee celebrations.https://t.co/fP8zNSka3F pic.twitter.com/xMkieMYW8A

— Dubai Media Office (@DXBMediaOffice) February 1, 2022
.@HHShkMohd: The strong values of the
graduates of the Zayed II Military College reflect the love and loyalty for the nation that the late Sheikh Zayed bin Sultan Al Nahyan has instilled in the people of the UAE. pic.twitter.com/olxtZAXA5x

— Dubai Media Office (@DXBMediaOffice) February 1, 2022

More from UAE