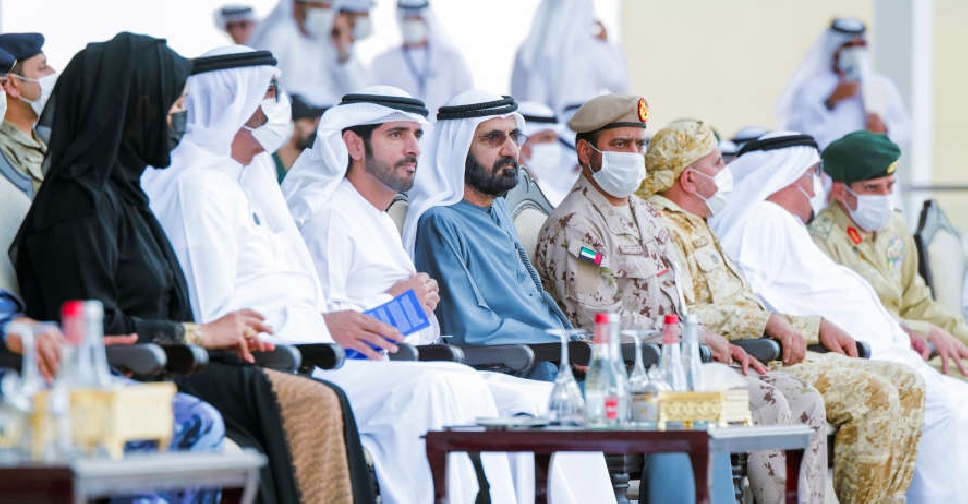 WAM
His Highness Sheikh Mohammed bin Rashid Al Maktoum, Vice President and Prime Minister and Ruler of Dubai, has praised the advanced competencies of the UAE Armed Forces during the Union Fortress 8 military parade.
The parade and live action drills, held at South Expo near Expo 2020 Dubai, highlighted the advanced capabilities of the UAE Armed Forces, the expertise and skills of its personnel and its state-of-the-art equipment and technologies.
Sheikh Mohammed underlined the military's critical role in ensuring the UAE's security and stability.
Praising the exceptional resolve of the soldiers, Sheikh Mohammed said they have constantly demonstrated their loyalty to the homeland and their extraordinary commitment to defending the nation's security and integrity.
أثناء حضوري اليوم تمرين حصن الإتحاد في إكسبو دبي ٢٠٢٠ … تمرين يظهر القدرات القتالية لقواتنا المسلحة .. وقدرات التنسيق العالية مع بقية الوحدات العسكرية الخاصة وقواتنا الشرطية .. ثقتنا عالية .. وجاهزيتنا في أفضل حالاتها دائماً .. pic.twitter.com/TlMfVVkRRo

— HH Sheikh Mohammed (@HHShkMohd) March 5, 2022
Witnessed by Expo 2020 Dubai visitors, guests and officials, the Union Fortress 8 parade displayed the capabilities of the UAE Armed Forces and the Presidential Guard in securing major events using advanced technologies including robotics, artificial intelligence (AI) and drones.
Union Fortress 8 featured simulations of responses to various scenarios involving risks and threats, including security and terrorist threats. The parade also demonstrated the high combat efficiency of female personnel.
The Union Fortress 8 concluded with a parade of participating vehicles, units and personnel in front of the main podium.
His Highness Sheikh Hamdan bin Mohammed bin Rashid Al Maktoum, Crown Prince of Dubai and Chairman of Dubai Executive Council, also attended the event.

More from UAE