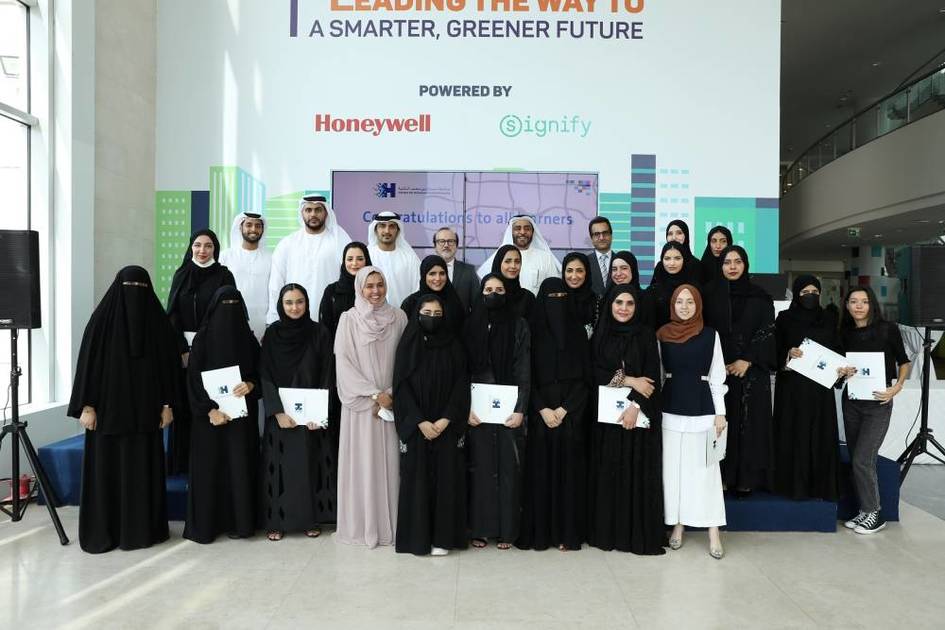 Dubai: "The Bay"
Hamdan Bin Mohammed Smart University celebrated 85 outstanding undergraduate and graduate students in the spring and fall semesters of the academic year 2021, by holding a ceremony in their honor in the presence of Dr. Mansour Al-Awar, president of the university, a group of senior university officials and a number of parents.
During the ceremony, certificates of excellence and appreciation were presented to the students by Professor Nabil Beydoun, Vice President of Academic Affairs, and the deans of the faculties of the university. During his speech, Professor Beydoun praised the students' efforts and expertise and stressed that Hamdan Bin Mohammed Smart University provides an ideal learning environment that promotes excellence and expertise and consolidates creativity and innovation in various academic disciplines, based on the latest advanced technologies to enrich the learning process and develop students' skills and abilities, to ensure progress.For individuals, institutions and communities.
The ceremony witnessed the honoring of 37 bachelor students in the disciplines of business and human resources, business and quality management, business administration in accounting, and science in health management, while 48 graduate students in human resources management, project management and science were honored in institutional expertise, expertise in environmental management, science in managing creativity and change, management in entrepreneurship, hospital management, public health, art in curricula and e-learning, art in e-learning management and leadership, education in talented and talented educations, science in interactive pedagogical technologies.
The students expressed their gratitude and appreciation to the University Administration, represented by Dr. Mansour Al-Awar, for the honor and stressed that Hamdan Bin Mohammed Smart University gave them all the opportunity to push them towards excellence and academic excellence.