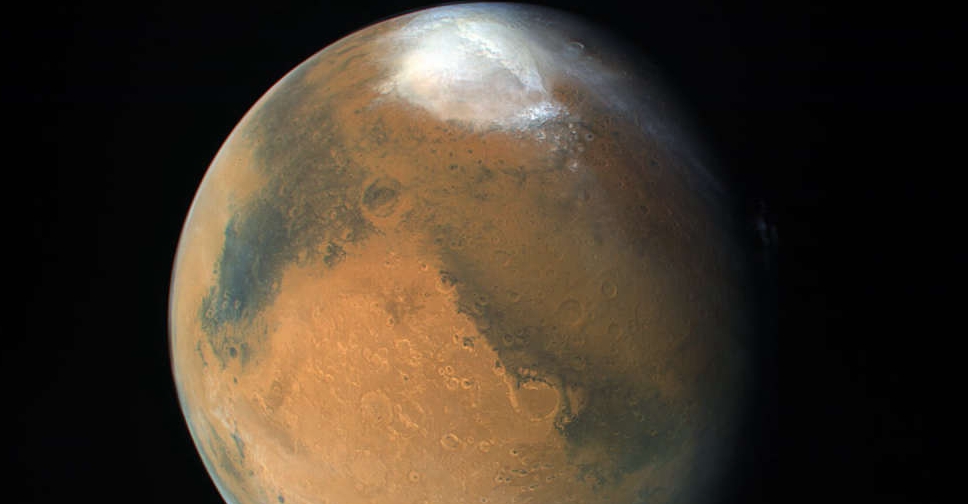 Twitter/HopeProbe
The UAE's Hope Probe's latest observations has thrown interesting insights into Mars' atmosphere.
The fourth batch of scientific data, collected between December, 2021, and February, 2022, included 118.5 gigabytes of information, images, and data captured on the Red Planet's atmosphere.
It showcased "new observations from the Emirates Mars Ultraviolet Spectrometer (EMUS) to provide better coverage of the aurora".
The EMUS was also able to successfully observe the solar energetic particles and galactic cosmic rays through a detector background monitoring.
The data has been shared with the scientific community and astronomy enthusiasts from around the world via the project's website.
Hessa Al Matroushi, Emirates Mars Mission Science Lead, said: "The recent coverage from the Mars Hope Probe is a tremendous feat and is evidence of the boundless potential that our instruments have in achieving science beyond what it was design for.
"The latest insights on Mars and its atmosphere reaffirm that there is much to discover, and we are looking forward to seeing the mission's objectives of providing useful scientific data, enhancing national capabilities, and fostering global collaboration come to fruition with every new data collected."
This brings the total data released by the Hope Probe to 688.5 gigabytes.
The Hope Probe's orbit, which is between 20,000 and 43,000 km with a 25-degree incline towards Mars, gives it the unique ability to complete one orbit around the planet every 55 hours, capturing comprehensive data every 9 days.
The Probe weighs around 1,350 KG, approximately the weight of a small SUV. It was designed and developed by engineers at Mohammed Bin Rashid Space Centre (MBRSC), in cooperation with academic partners including, the Laboratory for Atmospheric and Space Physics (LASP) at the University of Colorado Boulder, the University of Arizona, and the University of California, Berkeley.