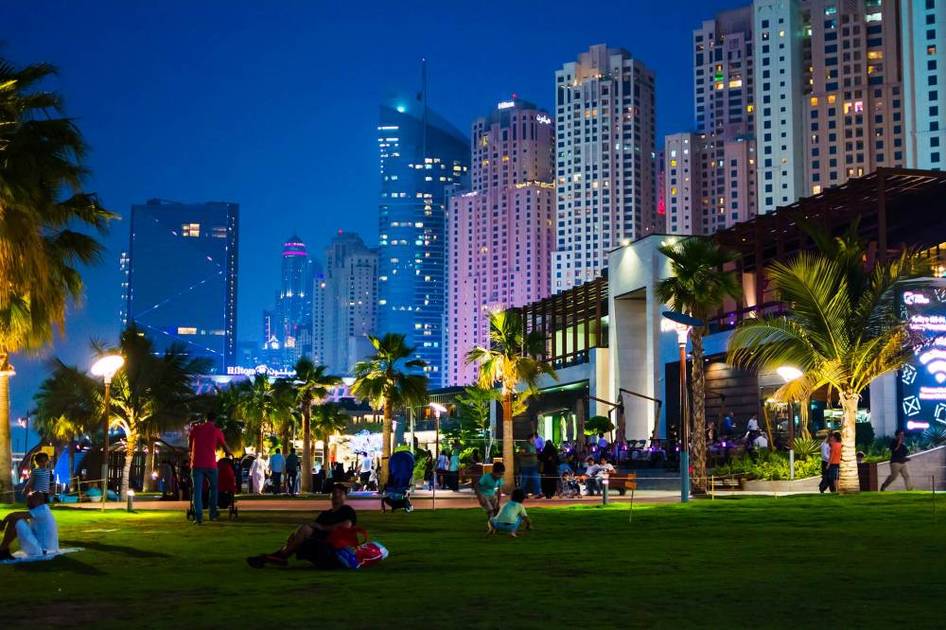 Dubai: Ahmed Al-Najjar
A harmonious world and an enchanting combination of JBR Walk, Dubai's beating heart with all the elements of dazzling, the amazement of the place, the breaths of engineering creativity in the atmosphere, the splendor of the skyscraper building, a complete tourist destination in one area, another life that does not stop and does not calm down all the way. The watch is comparable to international attractions such as the Champs Elysees Street in Paris and the Avenue of Stars and Celebrities in Los Angeles and mimics the spirit of La. Rambla Street in Barcelona, ​​Spain, but Dubai is unique in offering all vocabulary of attractions, entertainment and entertainment.
During a trip to explore the activities of the footbridge in the JBR area, "Al Khaleej" monitored the visitors' impressions, and everyone expressed their joy at spending family time full of rich activities and events, in addition to seeing the landmarks of the region surrounded by stretching skyscrapers two kilometers in length, and high-rise buildings whose balconies and windows overlook the waters of the Arabian Gulf, and Luna Salah El-Din described the roaming condition on the sides of the streets open to the sea, which in its atmosphere resembles the "French Riviera" , and expresses its surprise at what the region has to offer from a range of entertainment options from shopping malls, toilets, outdoor cafes and restaurants from the world's kitchens.With open beach views.
Happy atmosphere
Philip Sailesh, a British guest, expressed his happiness at being on site and said: "The hike is a beautiful tourist spot, everything around it is like magic. He said he is eager every morning by virtue of his stay in a nearby hotel , to experience walking in a family atmosphere full of joy and life, or to experience shopping from its various stores, refreshed with the latest fashions and fashions. "
Adel Al-Zahrani, a Saudi Arabian, accompanied by his family, is eager to visit JBR Beach every time he goes to Dubai, to enjoy a water ride by riding yachts, speedboats, swimming and diving on the beach, which includes beauty and entertainment.
games for entertainment
Abeer Tlemsani, a Lebanese woman living in Dubai, says she regularly visits JBR because of its proximity to her residence and work, adding: "Here I find all the possibilities and family requirements from a roaming atmosphere, shopping and dining experiences, as well as recreation on its wonderful beach, which is inhabited by thousands of races and cultures, "and notes that she accompanies her children to enjoy in a play area dedicated to the entertainment of young children, giving them an atmosphere full of excitement and joy, as well as participate in water adventures in several games, including "Sea Breeze", which rises and brings you back to the water again.
International taste
Foreign visitors reported that the JBR area is a tourist brand with a global flavor, a charming piece of luxury that creates daily surprises and launches new entertainment and family entertainment activities, including five-star hotels and shopping malls for the most famous international brands Explore activities that attract tourists , including the experience of taking pictures of you through cameras available to visitors along the promenade, and sending them directly to your email, to enjoy live participation with friends and family.
Spa
The JBR area represents an open-air health resort; It includes more than 30 health, treatment and sports clubs and has become a paradise for relaxation and recreation for those looking for a vibrant holiday full of activity and creativity, providing them with a family room with happy memories that will last a long time.
national festivals
JBR Beach witnesses many social activities, including volunteer activities and information events, in addition to the largest screen with high-tech movies and a sitting area for relaxation and in return an outdoor fitness area that allows visitors to work out and enjoy a great view of one of The beaches The most beautiful beaches in Dubai. It also holds annual international tournaments and festivals, photo and mural exhibitions and skydiving, as well as festivities and an important national event.