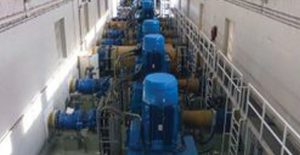 Dubai / WAM
Dubai Electricity and Water Authority (Dewa) has completed the upgrade of Jebel Ali Habab Pumping Station Phase-II & III. The total capacity of water connections at the station is 36 million imperial gallons per day (MIGD), with a total cost of AED67.44 million, said a Dewa statement on Wednesday.
The upgrade process aims to promote the automation of water pumping, energy conservation, and increasing the production capacity as well as reduction of pump and motor breakdowns.
Saeed Mohammed Al Tayer, MD & CEO of Dewa, said that the project is part of Dewa's continuous efforts to develop its infrastructure. This meets the growing demand for electricity and water in Dubai and helps Dewa provide its services according to the highest reliability, efficiency, and quality standards for more than a million customers.
Dewa also works to ensure the sustainability of water resources as part of the Dubai Integrated Water Resource Management Strategy, which focuses on enhancing water resources, rationalising water consumption, and using cutting-edge technologies and innovative solutions to reduce water consumption by 30
percent by 2030.