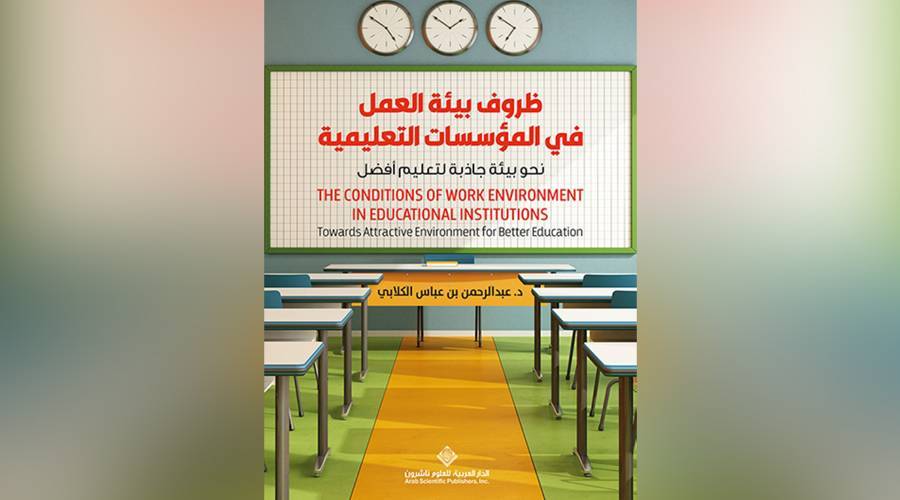 Sharjah: "The Bay"
The book "Working environment conditions in educational institutions: Towards an attractive environment for better education" is a theoretical and applied approach that aims to improve the working environment in educational institutions.
It deals with Dr. Bin Abbas Al-Kalabi, the working environment conditions at educational institutions in general and primary schools in particular in Saudi Arabia, and the author does this by revealing the environmental and physical conditions of the institutions and describing them in depth and practically. in light of the research literature he touched upon.
In light of this cognitive and academic concern, there has been a focus on the dimensions of the working environment, which are primarily the environmental conditions, including: the location of the school building, its design, facilities, equipment and fixtures. Secondly: the physical conditions, including the areas of light, temperature, ventilation, noise and colour.
Also in this context, the design, standards and requirements associated with the aforementioned conditions that increase the efficiency of the buildings of the educational institutions were discussed, in addition to reviewing some international models of distinguished schools that the author considers it possible to benefit from. as a global experience that applied the concepts of good urban design that takes into account working environment conditions and contributes to their improvement in these institutions.
The book did not overlook the quantitative and qualitative efforts of the Ministry of Education in Saudi Arabia, which contributed to improving the working environment conditions in public schools.
In conclusion, the book contained a "procedural guidance guide for improving the working environment conditions in elementary schools."