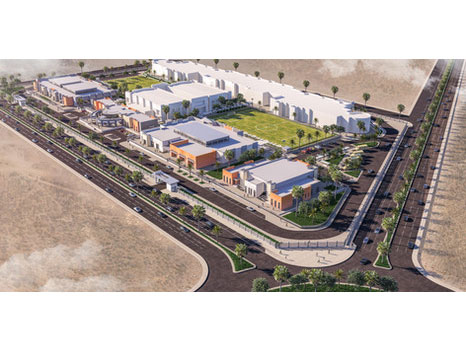 Luceco has supplied luminaires to Victoria International Schools of Sharjah (VISS). The schools were commissioned under the Department of Public Works – Sharjah, Luceco supplying complete lighting solutions for the facilities. VISS is a non-profit international school in the UAE teaching the Victorian version of the Australian curriculum, its teachers are predominately sourced from schools in Australia, the majority being from Victoria.
The school's modern facilities include specialised classrooms, technology halls and knowledge resources, along with art and music rooms, library, canteen, auditorium, WCs, and externally play and amenity areas. Luminaires specified included Platinum Mini and Palladium downlights, Atlas, various LuxPanels, Architectural bidirectional fittings and externally, Bollards.
The LuxPanel family offers various levels of technical performance according to the specification and environment requirements, the lumen output options designed to maximise performance whilst realising the energy savings available.
LuxPanel Backlit Extra offers high efficiency up to 135 Llm/cW, IP44 rated with a Plug and Play loop-in, loop out driver and 70,000 hour lifetime. The IP65 variant offers the same backlit LED technology with slimline 30mm depth but can withstand more harsh environments and as a UGR19 compliant luminaire with TPa fire rated diffuser, suitable for a range of applications including education environments.
The Eco Extra LuxPanel shares the same backlit LED technology and ease of installation with an IP40 rating, efficacy up to 130 Llm/cW, TPb diffuser and impressive 50,000 operational life, with the Eco variant up to 121 Llm/cW. Other recessed luminaires in the family include the LuxPanel Backlit Frameless, LuxPanel Asymmetric wall washers designed to illuminate vertical display areas and contemporary LuxFrame delivering functional lighting in an architecturally interesting format.
Victoria International School continues to develop relationships with a number of bodies, both in the Middle East and in Australia, showcasing the Victorian curriculum and pedagogy. Luceco has also showcased their illuminating credentials, lighting the way forward at Victoria Schools in Sharjah.