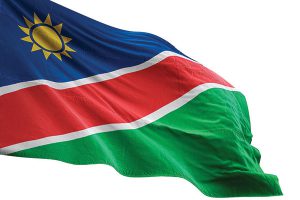 DUBAI / WAM
Namibia celebrated its National Day at Expo 2020 with a visit from the country's president, and a colourful and joyful cultural performance.
Dr Gottfried Geingob, President of the Republic of Namibia, was welcomed by Sheikh Nahyan bin Mubarak Al Nahyan, Minister of Tolerance and Coexistence, and Commissioner General of Expo 2020 Dubai.
President Gottfried Geingob, who was accompanied by his wife Monica Geingos, encouraged those watching to visit both his country's pavilion in the remaining days at Expo 2020 Dubai, and Namibia, for future trips. "The UAE has been a phenomenal partner in our participation, a brother to us. Thank you for allowing Namibia to join the making of a new world at the greatest showcase of human brilliance and achievement. You have indeed given us an opportunity to build a better world and positively shape the future for all, including our people in Namibia," he said.
Sheikh Nahyan bin Mubarak said, "Through its participation, Namibia showcases the wealth of opportunities that it has to offer to the world, from its rich culture and biodiversity, to its offerings in renewable energy, infrastructure, and the blue economy, among many others.
"We share strong bilateral relations with Namibia, and look forward to exploring areas of mutual interest for enhanced partnership and cooperation, in order to achieve our goals for the development and prosperity of our nations."
The speeches were followed by a performance called 'omupenne gwa ndema' from the Multi-Cultural Troupe, whose joyful performance incorporated dance, rhythmic clapping, drums and singing. Dressed in furs and beads and looking like they were having great fun, the group showed off the best of their country, as well as emulating activities concerned with food production and survival.
Giving an interview later in the day, President Geingob spoke of the friendships created, the business connections made, and the chance to expose Namibia to visitors via the pavilion at Expo 2020 Dubai. "For a small country like ours they have to stop there and find out where is this country? They saw our culture and were told what we are offering in tourism."
He revealed a new airline deal, signed at Expo 2020 Dubai, saying, "Lufthansa is going to start to fly to Namibia. Romanians, Germans always decide to come to Namibia, including business people."
He spoke of the importance of working with other countries to add value to their raw products. "We have gold. You cannot trade unless you add value to that. We have to industrialise to compete with the industrialised world. So, therefore we must use the lives of those who are coming to our countries, must help us to add value to our natural resources, not take them out in the raw form. We must add value at home and trade, as equals, as others do.
"We are now going into this green hydrogen economy of the future, energy. Namibia is trying to be a leader in that. We are inviting countries to come with a lot of money involved to come and invest. Once we talk about green hydrogen, it's a thing of the future."
Also on Wednesday, Namibian artists Gazza and EES were due to perform on the Sun Stage. Singer, performer and songwriter Gazza's lyrics and unique Namibian sound have the power to provoke emotions and ignite inspiration, whilst Eric Sell – EES – is best known for his blend of Kwaito, African House, Afro Pop & Afro-Reggae music styles, with a fresh, funky spin.
The Namibia Pavilion demonstrates how the country has become one of Africa's prime tourist destinations, and how it has succeeded in areas such as the blue economy and agriculture. Based in the Opportunity District, visitors can find out about Namibia's vast open spaces, abundant biodiversity and wildlife, rich cultural diversities and valuable traditional knowledge.
There was also a parade on Ghaf Avenue, and a discussion in the Women's Pavilion, called Visions and Journeys: Namibia.