Tickets are now on sale for the Dresden Opera Ball, taking place on the 15th of November 2022
Classical music entertainment includes legendary opera singer Placido Domingo, Latvian soprano Marina Rebeka, conductor Anton Lubchenko and the European Peace Chamber Orchestra Dresden
International businesswoman and global philanthropist Hikmat Al Kaitoob named official presenter of Dresden Opera Ball in Dubai.
Dubai, United Arab Emirates, Friday 23rd September:
The Dresden Opera Ball, to be held at Dubai Opera, will host in 2022, bringing together world-famous international artists to share their cultural heritage with the diverse people who live in the UAE.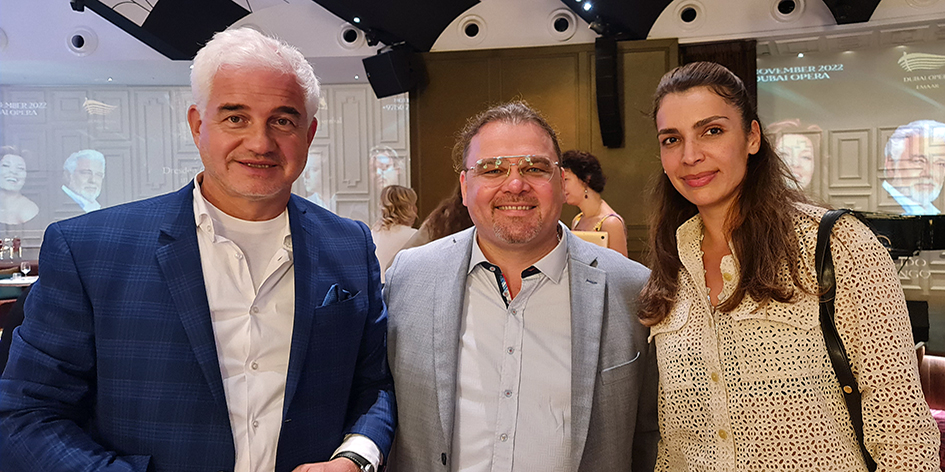 Taking place on 15th November 2022, the gala and awards feature performances by Placido Domingo (tenor), Marina Rebeka (soprano), hosts of the evening Riz Khan and Oksana Fedorova, the European Peace Chamber Orchestra Dresden, Anton Lubchenko (conductor), Igor Butman (saxophone), Roman Lyulkin (bass) and more.
The "king of opera" Placido Domingo thrilled the crowd at the grand opening of Dubai Opera in 2016 and returns five years later for another significant event, the first Dresden Opera Ball in Dubai.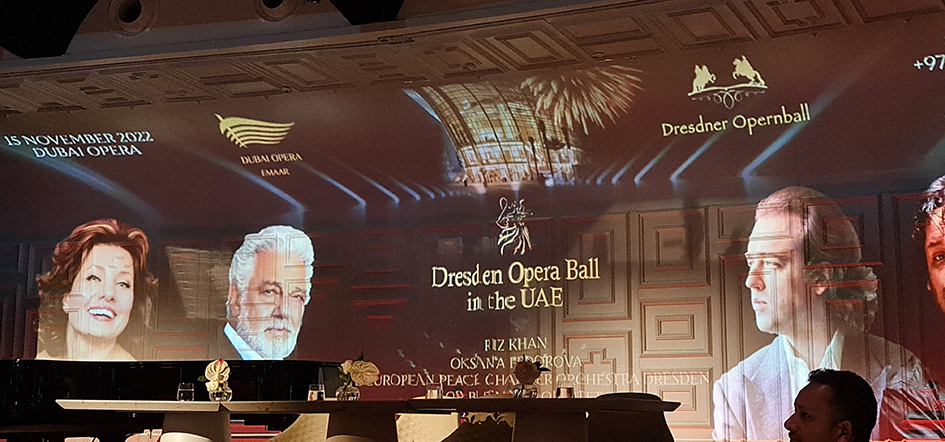 Debutants will also perform a choreographed dance presentation as part of the programme on the 15th of November 2022 at Dubai Opera.
The debutant couples will enthral the Dubai Opera audience as they have done in high society throughout European history. Ladies in spectacular gowns and gentlemen in stylish tuxedos will take over the stage in an extraordinary dance exhibition in a three-four-time signature.
The glamorous event is presented by M Premiere and the Opernball Dresden, the largest classical entertainment event in the German-speaking world that made its debut in 2006 in the German city of Dresden.
The Dubai Dresden Opera Ball follows the recent gala event at the beautiful Catherine Palace in St Petersburg, Russia and now, it is arriving in the UAE.
Dubai's convening power creates the natural platform for an event which seeks to connect cultural and artistic icons from the European and Arab worlds.
On the 15th of November, a red-carpet reception begins proceedings at 6pm, before VIP guests move inside for dinner, classical music performances from the world's best musicians, and elegant dancing in the style of traditional European balls.
A VIP guest list for the Dresden Opera Ball includes HE Mariam bint Mohammed Saeed Hareb Almheiri, Minister of Climate Change and Environment of the UAE.
Hikmat Al Kaitoob, an international businesswoman and global philanthropist, is the official presenter of the evening's festivities.
Leading broadcaster and author Riz Khan will moderate the proceedings, which will also be hosted by former Russian Miss Universe Oksana Fedorova.
Hans Joachim Frey, General Director of Dresden Semper Opera Ball
"The main message is to have an international cultural bridge building between Germany, the Arabic world, the United Arab Emirates and the European world. Culture brings people together and Dubai is a centre for this and we are very happy to be here."
Dresden Opera Ball Programme
18.00 Red carpet opening ceremony
18.30 VIP reception
20.00 Gala show program
21.30 Grand finale with Dresden Opera Ball debutants
21.45 Fulminant ball opening dance
22.00 Gala dinner orchestrated by Armani Hotel Dubai culinary team
23.00 Dancing music and entertainment
01.30 Closure of the event
Tickets are available to purchase at
Dubai Opera: https://www.dubaiopera.com/events/dresden-opera-ball-in-the-uae
Platinumlist: https://dubai.platinumlist.net/event-tickets/84187/dresden-opera-ball-in-the-uae
or by calling +971507686418
Ticket pricing
Silver AED 975 (including a pre-show drink)
Gold AED 1,125 (including a pre-show drink)
Platinum AED 1,425 (including a pre-show drink)
Premium table AED 3,825 per person
Diamond table AED 4,675 per person
Royal table AED 5,525 per person
VIP table AED 6,375 per person
All table seats include
– VIP welcome cocktail.
– 3-course dinner.
– beverage package from 20.00 till midnight.
T&C apply.