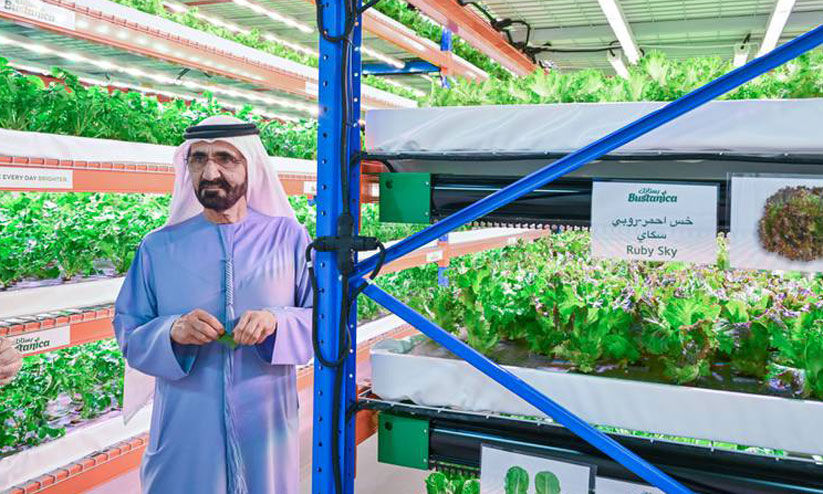 Dubai: Sheikh Mohammed bin Rashid Al Maktoum, UAE Vice President and Prime Minister and Ruler of Dubai, visited Bustanika, the world's largest vertical farm.
Sheikh Mohammad said that the promotion of such farming methods reflects the country's commitment to food security. Deputy Prime Minister and Finance Minister Sheikh Maktoum bin Mohammed was also present. Sheikh Hamdan bin Mohammed bin Rashid Al Maktoum, Crown Prince of Dubai and Chairman of the Executive Council, also visited the farm the other day.
The farm authorities explained the activities of the farm to Sheikh Muhammad. This is a farm that produces 3000 kg of leaves daily. The farm operates near Dubai Al Maktoum International Airport and is managed by Emirates Fleet Catering (EKFC), a subsidiary of Emirates. Leaves from this farm are used in meals on Emirates flights. The farm is spread over three hectares. More than 1000 tons of leaves are chopped from here in a year. It is the largest farm of its kind in the world. The leaves picked from here at 6 in the morning reach the dinner tables at noon. Apart from being used in the Emirates, the leaves from here are also reaching supermarkets. Different types of leaves are grown on three floors. Spinach, Cabbage, Cengira etc. are mostly. There are also plans to produce fruits and vegetables in the future. Cultivation here is by hydroponic method. No use of soil. 70-90 percent less water is required for this cultivation compared to the normal cultivation method.