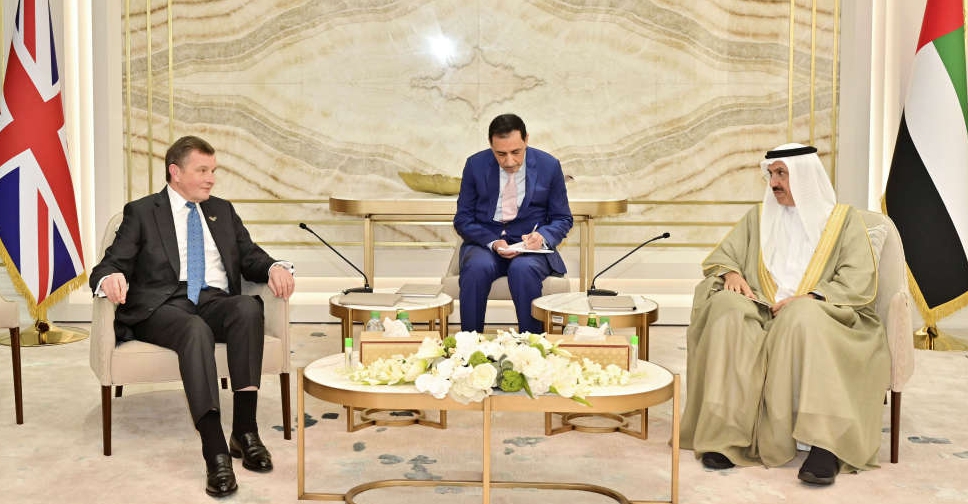 WAM
The Speaker for the UAE's Federal National Council's (FNC) described the friendship between the UAE and the UK as a role model for how relationships should be between countries.
It comes as Saqr Ghobash met with members of the United Kingdom-United Arab Emirates All-Party Parliamentary Group (APPG), who are currently visiting the UAE.
Ghosbash underlined the strong bilateral relations between the two, and hailed the UK's support following recent Houthi militia's terrorist attacks on civilian areas and facilities in the UAE.
He highlighted the fact that the UAE reserves the right to respond against these terrorist attacks which contravene all international laws and norms. He also called on the APPG to support the efforts of re-designating Houthis as a terrorist organisation.
The FNC Speaker confirmed that the UAE has a legal and moral right to defend its lands, population and sovereignty. He said that his country exercises this right to prevent terrorist Houthi acts while supporting international efforts to reach a ceasefire and a political solution in Yemen.
Meanwhile, Chairman of the APPG, David Jones and the accompanying delegation thanked the FNC for their warm welcome, stating that the UAE has managed to achieve significant milestones and development in different domains over the past fifty years.
They also expressed their keenness to enhance bilateral relations between the two countries, attain strategic partnership with the UAE in all domains and unify efforts on international issues of common interest.
The FNC Speaker also reflected on the outcomes of his recent visit to the UK, during which he met with the chairman of the House of Commons and several officials to enhance parliamentary ties and partnerships and take them to new levels of joint cooperation.
More from UAE
H.H. Sheikh Mohamed, Turkish President review regional, global developments

His Highness Sheikh Mohamed bin Zayed Al Nahyan, Crown Prince of Abu Dhabi and Deputy Supreme Commander of the UAE Armed Forces, and His Excellency Recep Tayyip Erdogan, President of the Republic of Turkey, have reviewed the prospects of further consolidating bilateral relations and advancing cooperation between the two nations.

Abu Dhabi, Afghan trade ties discussed

Cooperation between businesses in Abu Dhabi and Afghanistan was the main topic of discussion at a meeting between Dr. Ali bin Harmal Al Dhaheri, First Vice Chairman of the Abu Dhabi Chamber of Commerce and Industry, and the Charge d'Affaires of the Afghan Embassy in the UAE.

ERC Winter Aid campaign helps 1.2 million worldwide

Around 1.2 million people across the globe have benefitted from the Emirates Red Crescent's (ERC) winter aid campaign.

DHA promotes new mental health app at Expo 2020

An new app designed to help people with depression has been highlighted at the UAE Innovates event at Expo 2020 Dubai.