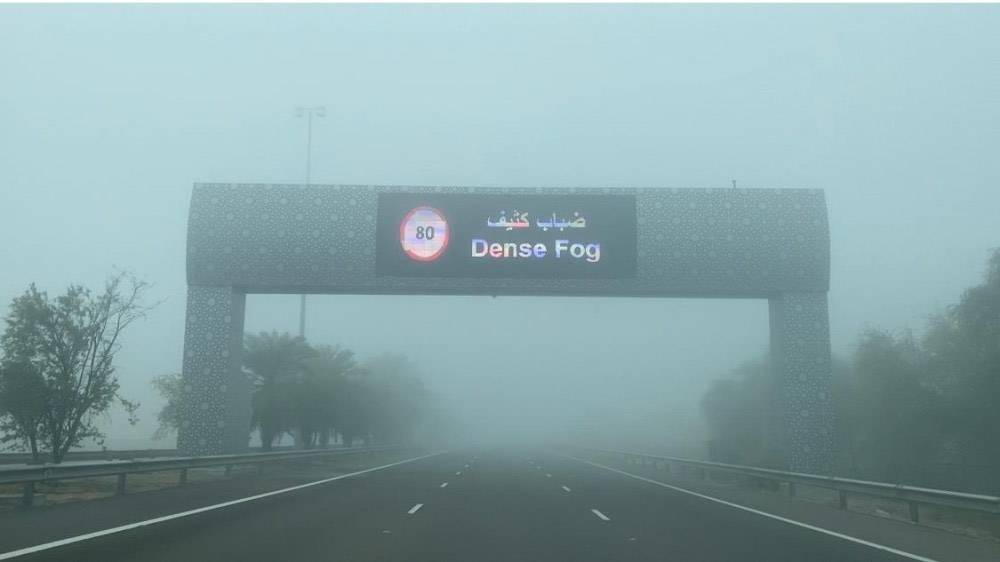 Normal
Al Ain records the lowest temperature of 21.4 degrees Celsius
Abu Dhabi:
Emad Eddin Khalil
The fog covered some coastal and inland areas of the country on Saturday morning and lasted for 9 and a half hours when it started at 11:00 in the evening on Friday and continued until 8:30 in the morning, as a result. of the country is affected by weak surface pressure systems accompanied by an expansion of high air in the upper layers of the atmosphere.
Fog started to form on Al Falah in Abu Dhabi, Madinat Zayed, Mezaira'a and Habshan in Al Dhafra region, on Al Ajban and Sheikh Khalifa bin Zayed International Road towards Abu Al Abyad, on Al Bahia Road towards Ghantoot and Al Falah Road towards Al Faya, and a number of other areas, and the lowest temperature was recorded on Saturday morning at 21.4 degrees Celsius in Raknah in Al Ain, at 6 am.
The National Center of Meteorology appealed to road users and motorists to exercise caution and follow traffic instructions during the formation of fog and at times the low horizontal visibility in some inland and coastal areas.
Abu Dhabi Police activated the system to reduce speeds to 80 km/h on the road (Al Falah – Al Faya Bridge) and on Sheikh Maktoum bin Rashid, Abu Dhabi – Dubai (Al Bahia – Al Samih Road), appealing to drivers to adhere to the speed they indicate on signs and electronic road signs The Principality in times of fog.
The center expected weather Sunday into Wednesday to be fair to partly cloudy at times, with low clouds developing on the east coast in the morning with a chance of some convective clouds in the east in the afternoon, and humid overnight and Monday morning, with a chance of light fog formation in some coastal areas and wind.Southeast to northeast, light to moderate speed, active at times, causing dust during the day, with a speed of 10 to 25 up to 35 km/h, and light sea waves in the Arabian Gulf and in the Sea of ​​Oman.
https://tinyurl.com/2zne9d4z