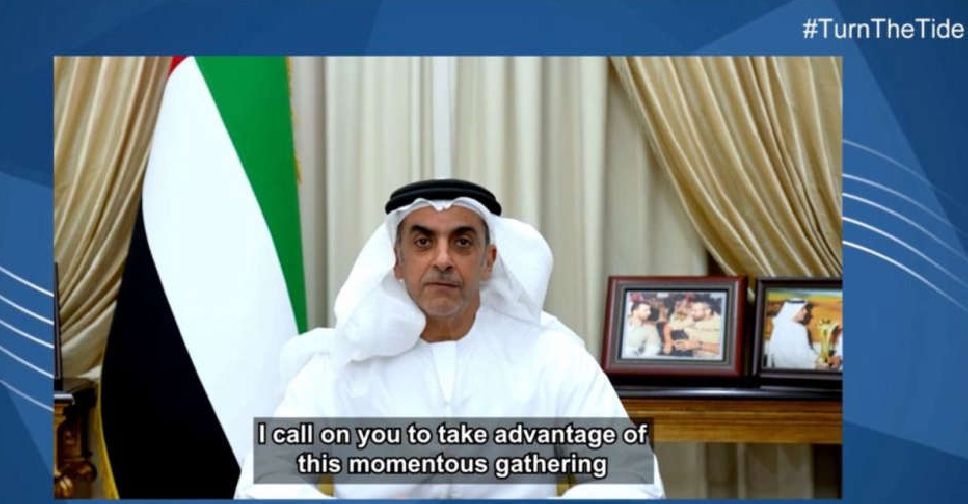 WAM
Lt. General Sheikh Saif bin Zayed Al Nahyan, Deputy Prime Minister and Minister of the Interior, delivered a keynote speech at the "We Protect 2022 Global Alliance Summit", held in Brussels, Belgium.
The summit convened to discuss ways to enhance international cooperation and coordination to protect children in the digital world.
Sheikh Saif said the health and safety of any child is "crucial to the development and upbringing of a normal family and society. All of us must be keen to provide a healthy and safe environment for children, so that they become positive and active individuals in their communities."
Children, he continued, are the bright future that lies ahead. "Protecting and supporting them must be a top priority for us, as well as for policy makers and decision makers."
Sheikh Saif added, "President His Highness Sheikh Mohamed bin Zayed Al Nahyan, stressed that protecting the rights of children and ensuring their proper upbringing will always rank high among the UAE's priorities. For this reason, we are required to secure a supportive and child-friendly digital environment. The family's role is always an essential element for the success of all these efforts. Our joint and close cooperation with the global coalition "We Protect" since hosting its second summit in Abu Dhabi in 2015 gave birth to the National Strategy for Child Protection on the Internet."
He called on the summit to take advantage of the gathering to come up with clear recommendations and obligations, for the good of children around the world.
Saif bin Zayed delivers keynote speech at "WeProtect 2022 Global Alliance Summit"#WamNews https://t.co/4mTkUzOwmb

— WAM English (@WAMNEWS_ENG) June 2, 2022
More from Local News
H.H. Sheikh Mohammed issues new Law on Dubai Media Council

In his capacity as the Ruler of Dubai, His Highness Sheikh Mohammed bin Rashid Al Maktoum, Vice President and Prime Minister of the UAE, has issued Law No. (5) of 2022 on the Dubai Media Council.

Dubai starts mapping streets for driverless cars

Dubai has launched a project to design highly-precise digital maps for autonomous vehicles.

Meet the UAE resident heading to space

Hamish Harding, a long-term Dubai resident will continue his mission to explore the most undiscovered places when he catches a flight to space this weekend.

Over 1,000 marriages registered in Abu Dhabi's Expat Family Court

More than 1,000 couples have tied the knot in Abu Dhabi's Expat Family Court in less than five months since the Abu Dhabi Civil Marriage Law came into force.

575 new COVID-19 cases in UAE

The UAE has confirmed 575 new cases of COVID-19 from 242,364 tests in the past 24 hours.

100% target population vaccinated in UAE

The UAE has achieved its goal of vaccinating 100 per cent of the target groups in the country.

Sheikh Abdullah attends GCC Ministerial Council meeting in Riyadh

Sheikh Abdullah bin Zayed Al Nahyan, Minister of Foreign Affairs and International Cooperation, has taken part in the 152nd Ministerial Council meeting for the 42nd session of the Supreme Council of the GCC.

Four new cases of Monkeypox in UAE

The UAE has confirmed four new cases of Monkeypox.

UAE to lead UN Space Committee

The UAE has been chosen to head the United Nations Committee on the Peaceful Uses of Outer Space.

Is the fuel price hike igniting the UAE EV market?

The cost of a litre of petrol has broken the four dirham barrier with the price of Super 98 reaching AED 4.15 for June, a jump of around 13.5 per cent from May's price of AED 3.66.

442 new COVID-19 cases in UAE

The UAE has confirmed 442 new cases of COVID-19 from 231,962 tests in the past 24 hours.

UAE petrol prices jump in June

Motorists will fork out over 13% more to fill up at the petrol pumps following the latest announcement from the UAE fuel price committee.

Abu Dhabi shoppers to be rewarded for ditching single-use plastic

With the ban on single-use plastic bags in Abu Dhabi coming into force on June 1, retailers in the emirate are gearing up to implement the regulation.

Watch: Sailor airlifted to Dubai hospital after suffering heart attack

A sailor who suffered a heart attack while working on a commercial ship has been airlifted to safety in a critical rescue operation by Dubai Police.

Dubai launches unified platform for building permits

Dubai has made it a lot easier for contracting companies and consultancies to obtain building permits.

Abu Dhabi trains inspectors to enforce single-use plastic ban

Inspectors from various government bodies have undergone special training to enforce the single-use plastic ban, which will come into play in the UAE capital on Wednesday.

381 new COVID-19 cases in UAE

The UAE has confirmed 381 new cases of COVID-19 from 205,134 tests in the past 24 hours.

UAE's Sheikha Mozah sets new milestone in civil aviation

The UAE's Sheikha Mozah bint Marwan Al Maktoum has set a new milestone in civil aviation.

UAE inaugurates largest hospital in Yemen's Shabwa

A UAE delegation has opened the first phase of the largest hospital in Yemen's Shabwa Governorate.

Monkeypox: UAE's quarantine, isolation protocols

All health authorities in the UAE are committed to a unified medical guide for dealing with cases of Monkeypox and their contacts.