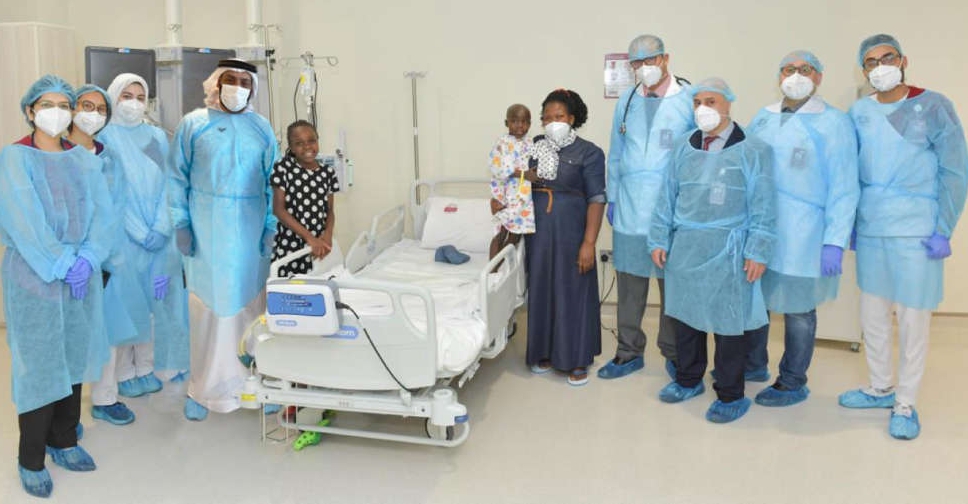 WAM
The UAE's first bone marrow transplant from a donor to a child has been successfully performed in Abu Dhabi.
The highly-specialised procedure was performed on a five-year-old girl from Uganda suffering from sickle cell disease.
The patient's 10-year-old sister donated her bone marrow for the treatment at Burjeel Medical City (BMC).
Prior to the treatment, the child had to be regularly admitted to hospital due to complications arising from her disease since birth.
Allogeneic stem cell transplant involves transferring healthy blood stem cells from a donor to replace a patient's diseased or damaged bone marrow.
The complex procedure requires collecting stem cells from the donor's blood, bone marrow within a donor's hipbone, or blood of a donated umbilical cord, before transferring to the patient, once they have undergone an intense series of chemotherapy or radiation also known as the "conditioning" process to fully kill their diseased cells and prepare their body to receive the healthy donor stem cells.
"Prior to this procedure there would have been immense suffering for the patient. The entire care team here at the hospital, as well as the child's parents, are delighted that the transplant will relieve this pain from her life," said Doctor Zainul Aabideen, Head of Department of Pediatric Hematology and Oncology at BMC.
The only curative treatment for this life-limiting chronic disease is bone marrow transplantation.
Other diseases for which the treatment can provide a cure include leukemia, immunodeficiency diseases, hemoglobinopathies, hodgkin's lymphoma, plasma cell disorders, and myeloma.
"Previously, our patients needed to travel abroad for this highly specialised treatment. The recent success of the stem cell transplants at our institution will provide new hope to the many patients who will benefit from similar care," explained Professor Humaid Alshamsi, Director of VPS Oncology at BMC.